Small-Town Inspiration: St. Louis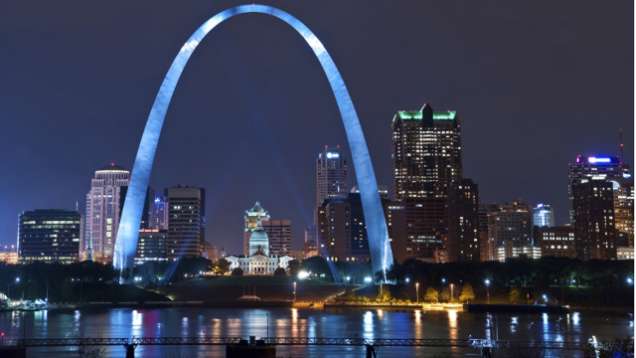 Our small-town inspiration blogs are a continuation of the big-city series, but on a slightly smaller scale. This week, why not "meet me in St. Louis" … and we'll share dessert! Turns out, this city offers much more than beer and baseball!
Ritz-Carlton Cake. The prestigious Ritz Carlton never disappoints, nor do its culinary options. Try The Ritz-Carlton cake, a decadent concoction of dark Valrhona chocolate, Grand Marnier and candied orange. For chocolate neophytes, Velrhona is a French premium chocolate manufactured in the romantic Rhône Valley. For artisan chocolatiers and high-end restaurants, the internationally recognized Valrhona is the go-to choice. Fun fact: the company employs 15 in-house taste juries to ensure the integrity of its product. (Speaking of chocolate, Bissinger's Handcrafted Chocolatier is a St. Louis staple, and their gourmet chocolate confections are an integral part of the national chocolate scene.)
Snicker Bar. What has nougat, peanuts and caramel in a chocolate coating? If your mind is still on Halloween, you're probably thinking of the Snickers bar. But at St. Louis' Sidney Street Café, an upscale Benton Park venue that serves New American cuisine, the popular Snickers bar takes the original ingredients and adds dulce de leche and chocolate mousse for a to-die-for dessert.
Kit Kat Bar. In keeping with the candy bar theme, consider the interpretation of the Kit Kat bar as only Three Sixty restaurant can do it. With sweeping views of downtown St. Louis, this restaurant offers more than a pretty view; it layers together chocolate, hazelnut, crushed pralines and happiness.
Pasticciotti. Finally, what city's dessert list would be complete without something from a late-night pastry shop? Piccione Pastry makes unforgettable shortbread tarts filled with rich and creamy custard—the perfect Italian (and St. Louis) treat!
Photo credit to www.fourseasons.com